Hot Tapping Services
Call Toll Free 1-800-221-3332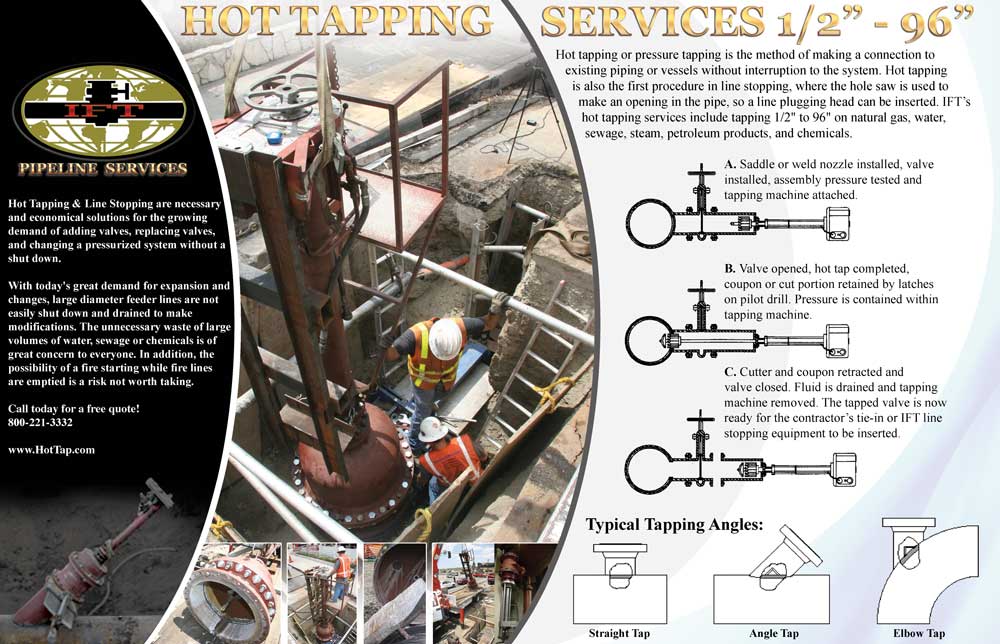 Hot tapping or pressure tapping is the method of making a connection to existing piping or vessels without interruption to the system. Hot tapping is also the first procedure in line stopping, where the hole saw is used to make an opening in the pipe, so a line plugging head can be inserted. IFT's hot tapping services include tapping 1/2" to 96" on natural gas, water, sewage, steam, petroleum products, and chemicals.
1. Saddle, sleeve, weld fitting or weld nozzle is installed, valve installed, assembly pressure tested and hot tapping machine is attached.
2. Valve is opened, hot tap completed, coupon or cut portion retained by spring wire on pilot drill. Pressure is contained within hot tapping machine.
3. Cutter and coupon retracted inside adaptor and valve closed. Fluid is drained and hot tapping machine removed. The tapped valve is now ready for the contractor's tie-in or IFT linestop equipment to be installed.
24" hottap on CMLC pipeline with coupon retained. This job was complete for the city of Murrieta, California. Call today for your free hottap quote today at 1-800-221-3332
FREE QUOTE