Valve Installations & Replacements
Call Toll Free 1-800-221-3332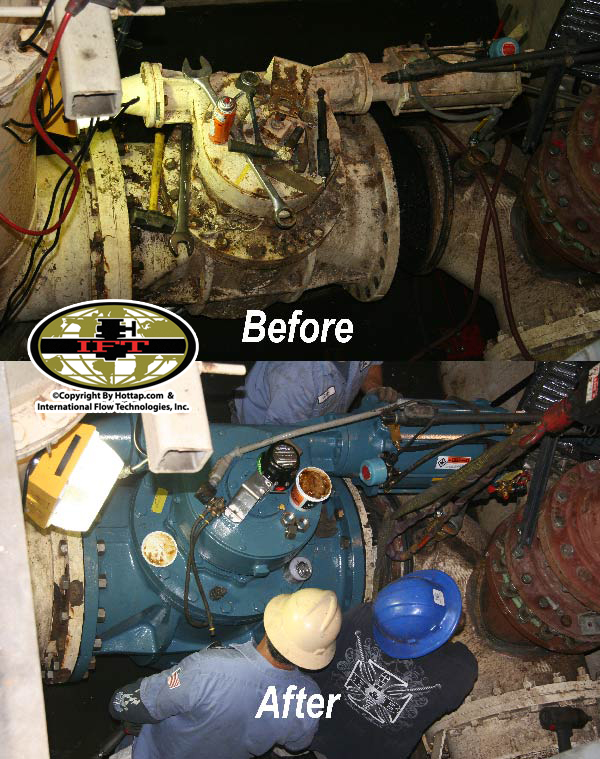 International Flow received a call from Rancho Water Company, in Temecula, CA about their pipeline that had no pipe to perform a Linestop, except a 24" 90-degree elbow. It was a fabricated sectional elbow as well!
The 24" Plug valve was seized in the closed position, with no way to isolate, and the only option was to bypass the operational sewage plant.
Seeing the importance of this valve replacement, International Flow laid out the easiest way to isolate the 24" pressurized sewage elbow without building specialized machinery. Another concern of IFT was to check the inside of the pipe for the possibility of it being filled with solids, which would make it hard to install a linestop mechanism. The condition of the pipe was checked by sending a measuring probe through a test hot tap and the line seemed to be full of sewage, but only 20% solids were resting on the bottom of the pipe. So the operation was full steam ahead!

Being that the 24" elbow was .375 thick carbon steel, fabricated from pipe sections, the Linestop fitting was installed by welding in a position not normal for hot tapping. Once the 16" hot tap was performed it allowed access for IFT's folding head to open up, to seal the 24" sewage main, bubble tight, allowing for the valve to be replaced in a clean manner.
After the project was complete, the operation looked simple to most onlookers. Few understand all the preparations and testing that goes into projects like these prior to being "on stage".
Much thanks to the International Flow Engineering Division for making these preparations for our field crews, who onsite, looked like we perform elbow Linestops every day.
Call 1-800-221-3332
FREE QUOTE